Horror as a genre isn't quite as popular on stage. There's a few reasons for this– the immediacy of the actors in theater, the limitations of theater effects, the audience's expectations for what theater should be– but ultimately, Horror simply stuck to film better than it did theater. But there are some great shows that are also excellent examples of the Horror genre.
Now, this being me, the types of theater that I am most familiar with are Early Modern five-act English theater and 20th century musicals, so that's where I'm pulling my examples from, but there's a lot of theater out there to try, so it certainly doesn't end here.
Let's go hear a play.
Titus Andronicus (between 1588 and 1593)
Shakespeare's Slasher Film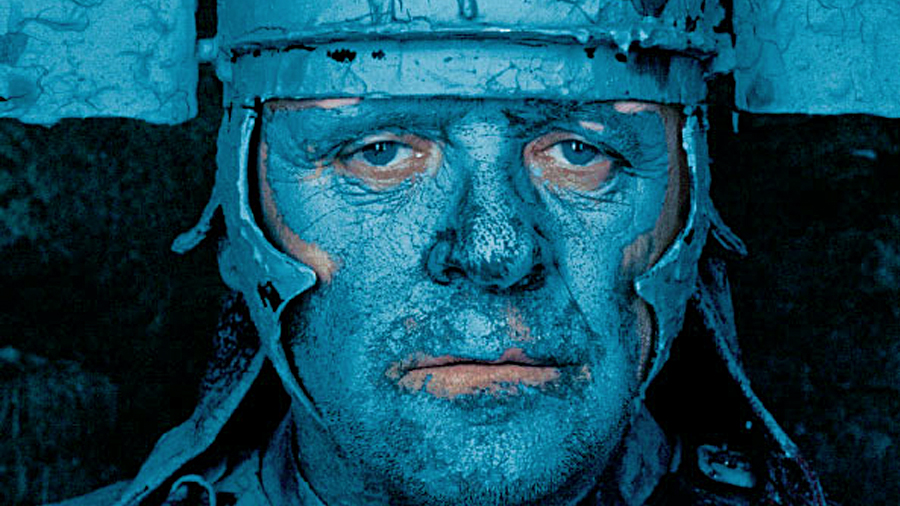 Titus Andronicus is a Shakespeare play from his early career, and was probably a collaboration. It takes place in Imperial Rome, focusing on a series of revenges between Titus and Tamora, the Gothic Queen. It's one of those Shakespeare plays where almost everyone dies at the end, but it is a uniquely savage bloodbath, including stabbing, amputation, beheadings, and pie. Yes, the fact that Anthony Hopkins is in the title role in Julie Taymor's film adaptation is relevant. There is some literature that suggests that Titus is in fact a parody of Roman and Greek tragedies, but even so, it's a major bloodbath if that's what you're looking for this Halloween.
Dr. Faustus (1592)
The Deal With The Devil
Christopher Marlowe's The Tragical History of the Life and Death of Doctor Faustus is the archetypal story of the deal with the devil. In much the same way that Shakespeare took the stories of Julius Caesar, Romeus and Juliet, and Amleth, Marlowe took the classic German folktales about Faust, who sells his soul to the literal Devil for wealth, status, and power. Faustus interacts with angels and devils, and is accompanied by Lucifer's servant Mephistopheles. What was radical about the play at the time was its application to the rising debate about Calvinism and predestination. The question is whether Faustus was always going to Hell, or whether he had the chance to save himself at some point.
Macbeth (1606)
Supernatural Scares
Shakespeare's Macbeth is one of his major Tragedies, but is also a chillingly terrifying story, especially when the more supernatural elements are played up. The witches proclaim the future, make dreadful potions, and invoke Hecatae. The bloodied ghost of Banquo appears to silently stalk Macbeth. Lady Macbeth's mental break, seeing ghosts of her own and dying of exhaustion. The supernatural elements are what gave the Scottish Play the edge over King Lear, which I also considered adding to this list, but refrained so as to not overwhelm the list with Shakespeare. Macbeth and King Lear (and, to a similar extent, Richard III) deal with monsters and unchecked ambition, leading to death and destruction and, in adaptations like Kurosawa's Throne of Blood, nature itself reject the new reigning power.
The Rocky Horror Show (1973)
Science-Fiction Double Feature
Before it was adapted into the classic film The Rocky Horror Picture Show, it was a West End production that premiered in 1973, made its way to Broadway in 1975, which was the same year the film was made. There are some differences between the stage show and the picture show, as there usually are in film adaptations of musicals– Brad has a song after "Touch-a, Touch-a, Touch-a, Touch Me", Eddie and Dr. Scott are typically double cast, and in the original production Frank's introduction came before "The Time Warp". The show was written as an homage and loving parody to 30's Science-Fiction, 50's B-Movies, and 70's glamour, hence all the name dropping in "Science Fiction/Double Feature". It is also very definitely R-Rated.
Sweeney Todd: The Demon Barber of Fleet Street
Sondheim's Serial Killer
"Attend the tale of Sweeney Todd." Stephen Sondheim's musicals are fast paced and very witty, thanks to his lyrical prowess, and the first and last songs of Sweeney Todd: The Demon Barber of Fleet Street both begin with the line "Attend the tale of Sweeney Todd." Also, there are more pies. Some pretty heavy hitters have performed in it during its many runs, including Angela Lansbury, Patti LuPone, Neil Patrick Harris, Imelda Staunton, and Audra McDonald. If you don't already know the story, its kind of like Les Mis, only in London, not Paris, and instead of becoming a Mayor and a respected gentleman, the main character becomes a serial killer that lives above a woman who makes his victims into meat pies. So, really, nothing like Les Mis.
The Phantom of the Opera (1986)
Romantic Horror/Horror-Romance
I mean, it's the longest running show in Broadway history. Third longest on West End. The original novel is a pulp horror novel, and the Phantom is technically a Universal Monster, and will be getting a new movie in the new Universal Monster Cinematic Universe, because reasons. But probably the most iconic adaptation is Andrew Lloyd Webber's stage musical. And it's okay for kids to watch, unlike Rocky Horror or Titus. The best legal way to watch it is probably the filmed staging at Royal Albert Hall done in celebration of Phantom's 25th anniversary. It has Ramin Karimloo as The Phantom, Sierra Boggess as Christine Daaé, and Hadley Fraser as Raoul, for its leads and some surprise cameos at the end. It's great for viewing at any time, but it's really good for Halloween.
What are your favorite scary shows? What periods of theater history should I brush up on to sound less like an idiot about it? Let me know in the comments. Also, like if you can, and subscribe/follow to get every update when it happens!