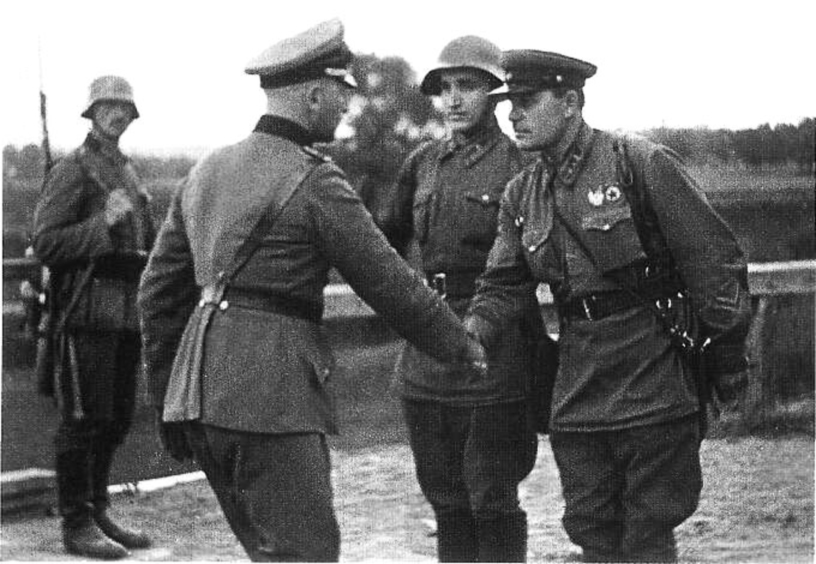 On September 17th 1939 Soviet troops invaded the eastern half of Poland. The given reason for invading Poland was to come to the aid of the Byelorussians and Ukrainians after the Poles illegally seized some of their territory. (Siegelbaum) The above picture shows a Soviet and German officer meeting somewhere in the center where Poland was divided by the two countries. Several weeks prior the Nazis and Soviets signed a non-aggression pact and agreed to split Poland in half. This pact allowed the Soviets to have a free hand in the Baltics and on June 16th 1940 the Soviets invaded. (Freeze, pg. 371) Stalin likely felt like he was responsible for restoring power and respect to the Soviet Union after taking back much of the territory that was lost after WWI.
As occupiers The Soviets were quick to turn their half of Poland into just another part of the Soviet Union. They replaced Polish currency with the Soviet ruble and began issuing propaganda newspapers to the local population. (Knighton, 2018) Following the invasion of Poland Soviet troops committed mass killings against non-Russians. Tens of thousands of Polish POWs were taken and executed then buried in the woods. This was the same for political prisoners as well. Karol Karski explains how Russian propaganda pushed for local Russians and Ukrainians to kill "Polish Lords", who were simply Polish people living in newly occupied territory. (Karski, 2013) You can read the full journal article here   https://scholarlycommons.law.case.edu/cgi/viewcontent.cgi?article=1078&context=jil  
The Soviets feared an invasion through Finland and the eventual capture of Leningrad. (Britannica)After a refusal to cede land over to the Soviets the Fins prepared for war. In November 1939 the Soviets invaded Finland and started the Winter War. If the Winter War proved anything it was that the Red Army, although numerically superior, was far from a reliable fighting force. The short war inflicted over 120,000 Soviet casualties. It also pointed out the consequences of Stalin's purges a few years earlier. At the end of the short war the Soviets gained territory which provided a small buffer zone around Leningrad.
Soviet annexation of Western Europe in in 1939 showed that although the USSR had made progress with the economy the Red Army was far from perfect. They proved Soviet power comes in the form of quantity rather than quality, at least in 1939.
Works Cited
Siegelbaum, Lewis. "Soviet Territorial Annexations." Seventeen Moments in Soviet History", 31 Aug. 2015, soviethistory.msu.edu/1939-2/soviet-territorial-annexations/.
Freeze, Gregory L. Russia: a History. Oxford University Press, 2009.
Knighton, A. (2018, September 11). The Soviet Invasion of Poland, 1939. Retrieved from https://www.warhistoryonline.com/world-war-ii/soviet-invasion-of-poland.html
Karol Karski,The Crime of Genocide Committed against the Poles by the USSR before and during World War II: An International Legal Study, 45Case W. Res. J. Int'l L.703 (2013)
The Editors of Encyclopaedia Britannica. (2018, November 28). Russo-Finnish   War. Retrieved from https://www.britannica.com/event/Russo-Finnish-War