What is it?
LectureTools http://www.lecturetools.com/ is a web based learning environment with a digital student response system that seeks to increase engagement and participation in the classroom and gives students study tools for outside of class. Faculty can load PowerPoints, documents, etc. into LectureTools and are then able to add questions/polls/activities and multimedia to create an interactive presentation. Poll results can be displayed immediately in a chart format using the student response component. Professors can also review responses on a student-by-student basis to get an understanding of how each student is performing and comprehending the content. Students can view the presentation prior to, during, and after class, and can take notes on each slide, flag important slides, or mark particular content as confusing (which allows the professor to see which concepts might need further explanation) Students can also type questions into LectureTools before, during, or after the lecture, allowing for a response by the instructor. Once the instructor answers the student's question the rest of the class can see both the question and answer.
How does it work?
LectureTools has been purchased by Virginia Tech and is free to those with a VT email address. It is cloud-based and therefore no special hardware or software are needed. Faculty and students create accounts by going to http://www.lecturetools.com/ and use their Virginia Tech email address for the contact information. Faculty set up the tool on a course-by-course basis and create lectures for each class within a given course. They publish the lecture for student viewing, launching the presentation during class while students take notes on their version of the lecture. Both faculty and students have a writing tool to enable them to write directly on the presentation. After a lecture, students have access to the presentation and their notes and faculty can export student response data into a spreadsheet for further analysis and track student performance.
Who's doing it?
LectureTools is a great tool for face-to-face and online classes because it can be used in both synchronous and asynchronous formats by professors and students.
Why is it Significant? The Pros
Stepping up engagement in large classes: Courses become more personal and interactive using LectureTools. When professors stop and ask questions and receive responses during class, they can get a better understanding of whether the students understand the content.
Tools for smaller classes: Smaller classes can benefit as well through access to the interactive presentation and study tools.
Improving learning outcomes: Students can use the tool as preparation for class, they can take notes on the instructor's PowerPoint slides and ask questions during class, and use the combination of notes and presentation as a study tool after class, giving them additional options for their learning and engagement.
Easy to use for both faculty and students – short learning curve.
Faculty can copy previous lectures, hide and move slides around easily.
What are the downsides? The Cons
Audio/video recordings can not be created within LectureTools, though this may change with future versions.
When a professor is writing on a slide using the pen tool, it displays on the projection, but does not get saved nor does it display on the students' screen since the students are viewing a non-synchronous version of the presentation. But the students also have their own pen tool so they can add the information to their slides as needed.
Links created in PowerPoint do not transfer to LectureTools and thus are inactive.
Where is it going?
Virginia Tech has purchased a volume license, giving availability to all Tech courses. Soon it will be integrated with Echo360 lecture capture system. Echo360 is VirginiaTech's supported content capture tool http://blogs.lt.vt.edu/echo360/. With ECHO360, faculty can record in-class lectures as well as pre-record lectures outside of class. The future plan is to have the LectureTool sessions have the capability to be recorded and uploaded into Scholar via ECHO360 for later viewing by students.
What are the implications for higher education?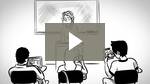 LectureTools reinforces the concept of TEAL (technology-enhanced active learning) http://web.mit.edu/edtech/casestudies/teal.html, using technology to create an environment of engagement for students. It allows students to work with the content material in a variety of ways, helping to ensure comprehension and long term retainment.
Resources
*Format based on the ELI "7 Things You Should Know About" series Written by Karen Gray (kagray@vt.edu) with a special thanks to David McPherson, Crystal Farris and Claire Gilbert for their input.