Before the start of the First World War under the reign of Tsar Nicholas II, Russia was a primarily agrarian society. Therefore, it was widely believed that throughout the war and thereafter the inhabitants of Russia would be well fed due to the abundance of grains bei the time Februng grown. However, the supply of food along with other essential items such as kerosene, footwear and textiles had dramatically dwindled quite rapidly.
The February Revolution is believed to have started due to protests regarding the food shortage, wartime privation and the government's ineffectiveness.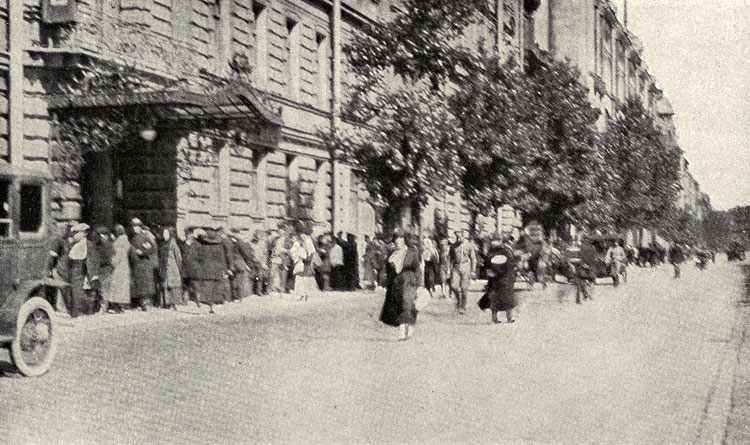 Lines such as these in which the common people waited to buy bread were common throughout many of Russia's cities, especially affecting Petrograd.
After the Provisional Government overtook the government, they dealt with the food shortage by establishing a State Committee on Food Supply on March 9th and then soon after that they set a fixed price on grain. The Provisional Government believed that this would create a stable environment for currency, which was a large problem in countries such as Germany in which inflation caused the price of bread to rise dramatically as well. However, the fixed price did not help with the shortage and even caused more problems in Russia such as jammed river ports, railroads and roads. Clearly, this problem extended past an issue of hunger. It had far reaching negative implications.
Sources:
Photographs of a bread line:  http://www.dhr.history.vt.edu/modules/eu/mod03_1917/evidence_detail_19.html
Seventeen Moments in Soviet History:  http://www.soviethistory.org/index.php?page=subject&SubjectID=1917food&Year=1917&navi=byYear
Freeze text:  Freeze, Gregory L. Russia: A History. New York: Oxford University Press, 2009. 275. Print