I'll admit it. I love it whenever I hear historians  courageous enough to go outside there comfort zones and embrace anthropological methodologies. I get  as excited a fat kid in a candy shop. Yet, I did not always have such an opinion of anthropology.
In fact, I very much questioned why anthropology existed due to the influences of a rather conservative Colonial Williamsburg Foundation historian. Until I read the one book that made me a historian and saved me from precipices of 1L in law school.
The late Rhys Issac's seminal work,   The Transformation of Virginia, 1740-1790,  to me,  was awarded the Pulitzer Prize in History, other than its fantastic narrative work, for only its last 37 pages entitled: "A Discourse on the Method." It is before his afterword where he discusses his ethnographic method, which  involve pinpointing the nature and extent of specific human interactions on the requisite "stage" of social geography, and – more importantly – understanding these interactions as per formative set pieces with important dramatic meaning in a specifically oral culture. Particularly illustrated when Isaac stated: "The task of looking through those different interpretations of the same reality trying to capture the essence of society is done by the ethnographer, who reconstructs not the physical space but the social context related to spaces in the present and in the past. The analysis of the social structure at the base of human interactions gives the possibility to create a "stage" where those interactions happen and where the ethnographer has to recognize the difference between the alteration of reality and the pure reality."   B-E-A-U-T-I-F-U-L.
When I read the "Cat Massacre" piece, I admittedly thought of, not cultural anthropological studies, but Monty Python. As a huge fan since I was 12, I always noticed in some venue or another those British goons beat, stepped on, even blew up cats! (See the bottom of the screen for the later! 🙂 )
Not only surprising was how this "cat phenomenon" a European, not solely a single national, legacy. It made me think:
How can we as historians pick apart such bizarre, anomalous rituals like cat massacres to accurately determine their origins and significance?
As a colonial American historian, I then remembered another bizarre type of ritual that persisted way into the 19th-century, especially within a Southern America context: Gander pulling. Just absorb that word for a second a try to guess what that means.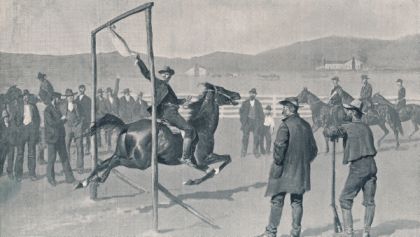 So, by looking at the image above, this epitomizes an activity that was commonly orchestrated in the street of colonial Charleston and Williamsburg. White men on horses, galloping 100 ft under and through a structure that is holding a live goose at its acme tied upside down with its neck greased up so to make it a tad more difficult for the oncoming rider to….pull the neck off.
Another example is within my area of focus: the colonial backcountry. An area constructed from oral traditions and travelers' accounts because of amalgam of ethnicities whose identities were built on folkore, inculcated values, that helped forge a distinct regional sensibility. These collective of hunters, drifters, herdsmen, gamblers, roustabouts, and rural poor, developed under oral displays of honor and dignity and, when challenged, defended through physical means. One of the most popular ways of doing this was through nail biting, hair pulling, and even eye gouging.

While tidewater gentlemen raced on horseback, gambled and even gander pulled, the distinctive marks of the true  , to borrow from John Tosh, "high cultured" backcountry settlers   were hand likes these. Eliot Gorn's outstanding anthro-historicall examination in  "Gouge and Bite, Pull Hair, and Scratch: The Social Significance of Fighting in the Southern Backcountry" http://www.jstor.org.ezproxy.lib.vt.edu:8080/stable/pdfplus/1860747.pdf?acceptTC=true&acceptTC=true&jpdConfirm=true demonstrates not only another way historians have successfully diversified their methodologies, but also with juxtaposed with more Tidewater VA-based cultural practices, demonstrates the importance of looking at these "deplorable" acts: it allows us, according to our readings from Tosh this week, to embrace the collective mentality of past observers, participants and/ or participant-observers. Thus, we can see where the lines of continuity and change persist or diminish and what they meant for contemporary societies.
Examining the symbols, cultural constructs, and ideals of past individuals and groups, and their representative codes and social metaphors, historians can better place themselves within the anthropological understanding commonly called: the cognitive map. The cognitive map is not only a past worldview but also a theoretical space that allows us to fully incorporate ourselves into a past people's reactions, predisposition and propensities. Namely, the cognitive map allows us to experience what past individuals experienced within the context of their time and place.
I am truly interested to see what people had to say about this week's readings and topics when Jamie and I lead discussion. Discussion questions are to follow soon!
For now, I leave you with this: