After COVID-19 forced colleges and universities to shift to online classes in spring 2020, discussions within the higher education community have been happening to evaluate the status and find ways to get the most out of the online learning experience. Some opinions argued for online learning citing benefits such as increased opportunities for student engagement due to the use of technology, flexibility for students, and cost relief in some cases. On the other hand, there are some challenges that remain such as difficulties in time management for students, mental health and wellness, lack of engagement, ensuring reliable internet access, and dealing with financial stresses in light of COVID-19. We've all heard some, if not all, of these opinions inside and outside classrooms at some point this year!
I came across an article on Inside Higher Ed about a survey conducted on 2 steps; one in May 2020, and the second in August 2020. This survey was trying to research how the attitude of faculty has changed towards the statement "online learning is an effective method for teaching". Below is chart that shows the modest 10% increase in the proportion of surveyed faculty who agreed with the above mentioned statement.

Additionally, the second part of this survey, "Fall like no other",  focused on how professors and their colleges and universities prepared for an online fall semester. The chart below shows the faculty priorities for the fall semester and how they changed after spring.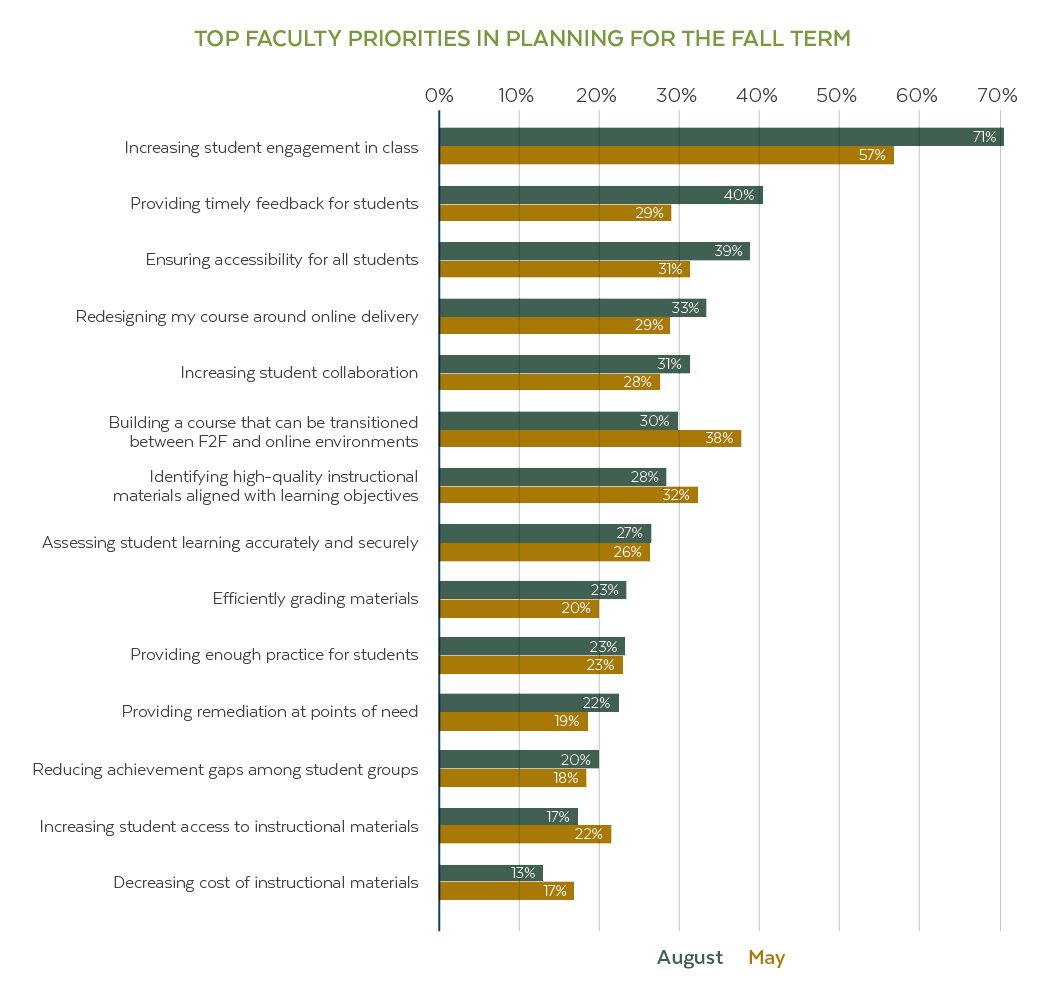 It seems like the summer was a busy time for institutions and faculty to reflect and make plans moving forward. The trends in the chart suggest that more faculty are focusing more on increasing engagement as part of the learning experience. This includes engagement at multiple levels; between the instructor and the class, between the instructor and individual students, and among students.
Even though students and faculty came a little more prepared for the fall being online, challenges remain, and one of the biggest concerns is equity. According the article, faculty said that when classes shifted to online in March it  "..disproportionately affect students from low-income and other disadvantaged backgrounds, which is why two-thirds of surveyed instructors said they were concerned about equity gaps"*. This time around, students, faculty, and universities have gained a lot of experience from the spring semester and so far have shown a higher degree of preparation going into the fall. This gives the hope that we are able to bridge the equity gap and overcome challenges by implementing strategies to achieving the priorities set for the fall semester and beyond.
*insidehighered.com/…/covid-era-experience-strengthens-faculty-belief-value-online