This week I decided to stay in the capital look for implications of the 30's on the city today. On different days I will go to a different areas and look at a different topic varying from an economic perspective to a cultural perspective and a social perspective. My goal for this trip is find how well history has been preserved and live a little. I realized with every stop I've made before I haven't truly connected and enjoyed each stop, so I want make truly get a feel for the city.
Day 1, Monday, Palace of Soviets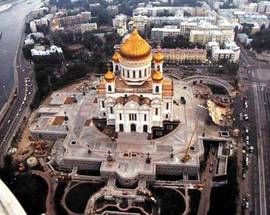 The first site I decide to see was the Palace of Soviets. There is a lot of history in at this site. It was to be built on the land that Cathedral of Christ the Redeemer was originally at. Construction for the church started in 1889 and was later destroyed in 1931 to make room for the Palace of Soviets. The idea for the Palace started off as a drawing contest in 1931 that had three finalist that later was narrowed down and the winner was Boris Iofan. The Palace of Soviets was to be the tallest building, 1326 feet topped with a statue dedicated to Vladimir Lenin and was to included a heated pool, restaurants, and massive library. The building was never finished for several reasons related to problems in the 1940's (World War 2). The first reason was the metal was re-purposed for the war effort during World War 2. After the war, Stalin set plans into motion to continue the construction, however in 1957 the government scrapped the plans and decided for two buildings to be built on that site. Now the Cathedral of Christ the Redeemer sits there. I used the Moscow Metropolitan, a train system first developed under Stalin to help rebuild Moscow. Something that I found amazing about the train was the fact that construction started in March and was operational in three years later in May. Of course the train system created then has been expanded since then but the architecture from back then is present today. I was at the Ploschad Ilyicha metro station and there is a huge monument mounted to the wall of Lenin's face. I bought by ticket for the 9:30 am stop and it took less than 30 minuets. It was another 5 minuet walk once I got off the train. I was really happy that it was free to walk around the Cathedral. Sadly, I looked at the time wrong and had had to wait an additional 2 hours because they opened at 1 pm instead of 10 am. It did work out well because I was able to plan my next day.
Day 2: Tuesday, Opera house 
I searched for a good hour trying to find an opera house that was showing Lady Macbeth and never found one. Lady Macbeth was an opera that came out in 1934. It's composer Dmitri Shostakovich was only 29 and this was his second opera. To me the opera was very daring because it follows a young women Katherine Lvovan who kills her husband and father-in-law and sent to a Serbian prison but you want to sympathize with her. Stalin saw this opera and hated it so much he walked out. Two days later in the newspaper, an article called "Chaos instead of Music" was written about the opera which lead to Shostakovich being what we would consider blacklisted and thus went into hiding and was not being able to produce more music. He was currently working on his Symphony #4 and was not allowed to produce it. After he made revisions such as changing the characters names and actions, the opera became popular again. I went to a show at Bolshoi, one of the oldest opera houses in Moscow. I saw a play called Poet's Love, which was showed in Beethoven Hall.
Day 3: Friday, Clubbing at Propaganda
To finish the week I thought it would be cool to go to a club and get my hands on some Russian Champagne. I found a club called Propaganda that was in the heart of the city, a twenty six minuet train ride on the Moscow Metropolitan. The line to get in was long but we were finally inside and the first thing I did was head to the bar to get a glass of Russian Champagne. Russian Champagne is a big thing because it was first created in 1917 and a resurgence in 1934 because collectivization was working. The USSR was living their glory days and so was I. Recently, because of the ban on western imported goods the Champagne was in abundance and cheep.
Citations: