I'm Tired….
I'm all over the place this week… Hence why this post is late…
This is actually the week I was the most excited about when I first looked at the syllabus. But honestly… I'm just tired. I think that's one of the reasons this post is late. I think another, that is strongly related to this tired feelings, is that I was expecting myself to have something profound to say about this. And really…
I don't.
A lot of the time when this topic comes up in class, I feel this pressure to represent my people, speak up, and say something deeply profound.
Most of the time, this pressure isn't coming from anyone other than myself. I want to represent myself, my people, and my culture well. People are well meaning. They're curious and they honestly don't know so most of the time, I actually love to answer their questions. But right now,
I'm just tired.
I don't say this to take away from anything we've read or talked about this week. I am actually really passionate about this topic as you might be able to tell from class. I really resonated with the "Reducing Identity and Stereotyping Threat" chapter. I think that's because I'm still creating my narrative like the author mentioned towards the beginning. I did find it interesting that once again, the native experience is forgotten even in this article. Because of where I'm personally at right now, this actually hurts today. Because I feel like it reiterates the idea that it's okay for us to have to endure this threat… I mean we're the one race that it's okay to characterize with stereotypical cartoons & sports mascots despite our continuing disapproval.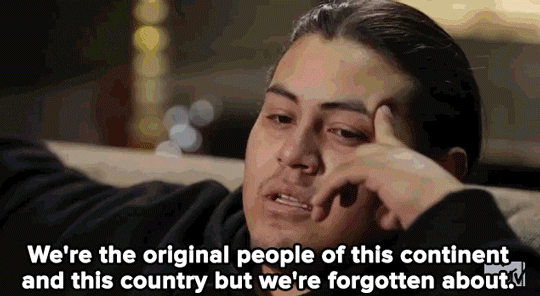 As a group that gets forgotten, I've actually really started looking at making sure I include and look at everything in my classroom especially groups that I think continually get forgotten. Lately that has been in my work to make sure my classroom is accessible to everyone regardless of their abilities or capabilities and that my wording is welcoming. That's why I used the word "Accessibility" in my syllabus instead of "Accommodations". Accommodations has a more negative connotation and it is really just my goal for my class to be accessible. I've also been looking into Active Learning techniques and have been reading about how these activities are actually a nightmare for students with ADHD and other disorders that make it difficult to process information right away.
I'm really disappointed I'm going to miss class this week… I know the discussion is going to be really good. But I'm actually going to be at the Tribal Leaders Summit here on campus with Virginia's tribal leaders. I need to be there. Especially right now, with my state of mind. But I'm looking forward to being with you again next week. And I'll leave you with this gif because I found it during my writing and just had to include it.