[sharing with both my NMSS group and with Future Professoriate classmates who may find it interesting.]
April 23, 2015
Christiansburg, VA
Deschooling isn't, in my interpretation a dismissal of the process we have come to love and trust, but rather a hope in something else– a process that reflects different desires which drive a search for knowledge. Something about Illich's desires were unclear to me with this reading, and I felt a graveling, neoliberal "where will this get you" tone throughout his work .
The word "deschooling" brought back specific memories. I remember visiting a coffee shop during a few undergrad semesters in Winston Salem. Krankies has decent coffee and most importantly a great art gallery and music venue which brought together eclectic, artistic folks on a nightly basis.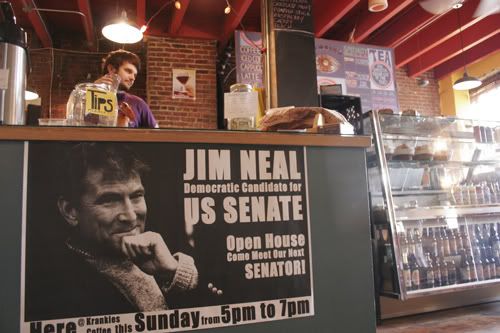 I would spend long afternoons there, reading the assigned material for my undergraduate classes in nonprofit management, music history and accounting unsure of why, knowing I was suppose to consume it in order to "be prepared" for class the next day. One evening a young musician sat down beside me with a stack of science and economic magazines (these were usually available in piles at the coffee shop). He devoured them. We talked about them. He wanted to read my text books. He was not in school and wanted to borrow my textbooks to see what I was learning. We talked about foreign policy and pollution, languages and the economization of aesthetics.  I was intrigued and it took literally leaving the formal education system for me to find a structure that wielded this passion in myself; a passion to learn, to devour information because I desired it, because I was curious. This is what came to mind with the title of this week's readings… these memories and the formative plans for a "free school" in Winston Salem which never came to full fruition when I read the title of this week's assignment in the New Media Seminar.

http://photoblog.nbcnews.com/_news/2012/11/09/15036358-a-free-school-under-a-bridge-in-india
Our "make" this week is to "identify a real-life example of one of Illich's four "approaches" (in the subsection "Four Networks") that has made a difference in your life–teaching you something new, for example. What did you learn? Could you have learned it in a traditional classroom environment? Which would you have preferred?"
Illich offers the following four options:
Educational resources are usually labeled according to educators' curricular goals. I propose to do the contrary, to label four different approaches which enable the student to gain access to any educational resource which may help him to define and achieve his own goals:
1. Reference Services to Educational Objects-which facilitate access to things or processes used for formal learning. Some of these things can be reserved for this purpose, stored in libraries, rental agencies, laboratories, and showrooms like museums and theaters; others can be in daily use in factories, airports, or on farms, but made available to students as apprentices or on off hours.
2. Skill Exchanges--which permit persons to list their skills, the conditions under which they are willing to serve as models for others who want to learn these skills, and the addresses at which they can be reached.
3. Peer-Matching–a communications network which permits persons to describe the learning activity in which they wish to engage, in the hope of finding a partner for the inquiry.
4. Reference Services to Educators-at-Large–who can be listed in a directory giving the addresses and self-descriptions of professionals, paraprofessionals, and free-lancers, along with conditions of access to their services. Such educators, as we will see, could be chosen by polling or consulting their former clients.
A beautiful embodiment of these four (perhaps all in one place) was the "free library" I would frequent in Asheville, NC. I doubt it's still there, it was falling apart 5 years ago, but "tiny free libraries" are popping up all over the place back home:
http://www.citizen-times.com/story/news/local/2014/07/19/little-free-libraries-one-neighborhood/12890595/
Ironically, it was at this free library that I began to find literarure about Black Mountain College– what I truly think serves as a structure for a different type of learning.
Illich's list isn't at all what I think of as "deschooling" or "unschooling." Illich's notions seem so regimented, organized, portioned into categories of networks of options… so rigid. When I imagine the type of learning free from these organizational constraints I do not think of skill exchanges, reference services or peer-matching… I think of the radical possibilities of spaces devoted to learning. Like Illich, I do not always think of the traditional schooling system. I think, specifically, of Black Mountain College and the mythic space of opportunities and hope that it occupies in my imagination. I think of people devouring magazines without the threat of a test.
For more on Black Mountain College: https://www.fandor.com/films/fully_awake