The Moscow Metro is one of the crown jewels of public transportation.  Today, as in Soviet times, it is a prime example of Russian workmanship, architecture, art, and engineering skill.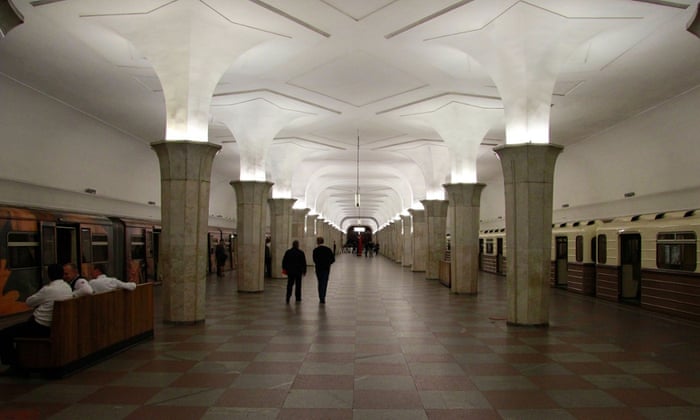 The idea for a Metro system was first pitched to Tsar Nicholas II in 1902 and one of the main goals of the system was to match, and hopefully out-do, the subway systems in London, New York, and Paris.  The system was finally approved and began construction in 1932 with much fanfare.  Josef Stalin saw it as a way to show off the power and excellence of his socialist nation.
The construction efforts were lead by Lazar Kaganovich and future leader of the Soviet Union Nikita Khrushchev.  Their success or failure would dictate the future of their political lives, and possibly their actual lives.  The publicity campaign surrounding the construction ensured that Stalin and his minions pumped all the necessary resources into this project.  Obviously both of the men succeeded and Khrushchev went on to lead the USSR.
The first line opened in 1935 to great fanfare and eventually it grew to the 12 lines it has today.  Many times people have remarked that the metro system is the most efficient, best part of Russia.  Now that may be an exaggeration, but it is known as one of the finest mass transit systems in the world.
The metro system was ostensibly built to provide good, cheap transit for Muscovites but it also was a publicity stunt for the Soviet Union.  Josef Stalin saw this as an opportunity to show the world what a socialist society could do and he jumped at the chance.  No matter the cost in people, time, or money Stalin was only concerned with the restige of the SOviet Union.
Further Reading:
http://www.theguardian.com/cities/gallery/2015/may/14/moscow-metro-80-anniversary-city-history-in-pictures
http://soviethistory.msu.edu/1934-2/the-moscow-metro/