The Homeplace
Growing up in Salem I had heard about the Homeplace restaurant many times but I had never actually been there. I think the reason that I had never been there is because my mother and aunt's cooking has always been so extraordinary we rarely ever went out to eat. On Sunday afternoons most families where I'm from go out to eat but we all go to my Grandparent's house and eat a big Sunday meal. But the day finally came that I was going to get to try this, supposedly, amazing food.
It was Saturday October 8th, me and a couple buddies of mine decided we had eaten enough campus food. So we loaded up in my truck and took off down old Blacksburg Road. The drive was very pretty, the leaves were changing all different types of colors and the mountains looked absolutely gorgeous. I was in the absolute best mood, and to top it all off we were blasting some Alan Jackson through the speakers, he is without a doubt my favorite artist of all time.
I almost drove right past the place, it didn't look like a restaurant to me at all it just looked like a big house. We pulled up the long driveway and to my surprise the place was totally packed. Not only was there no where to park but the wrap around porch was hustling with people. We gave the person at the counter our name and waited for about thirty minutes. I was okay with the wait, we all three sat on a porch swing and chatted with a big family that was waiting. It was evident that this family goes to the home place often by how much they praised the place.
Once our name was called we were seated by a nice older woman who made us feel right at home. A waitress asked for our drink orders and recommended the lemonade so we all tried that. Then the food started coming out and let me tell you I started pounding down everything that was in front of me. This place definitely lives up to its reputation, my personal favorites were the mash potatoes with gravy and the fried chicken.
Everything about the Homeplace reminded me of things that we have talked about all year pertaining to Appalachia. For instance they were playing bluegrass softly over the intercom system. Another thing that really reminded me of Appalachia were all the different painting and pictures that they had hung up on the wall. There were pictures of coal miners and old farmers everywhere. It was really like a step back in time.
The experience was well worth it and I am extremely glad we went. Not only was the food absolutely amazing but eating great country style food deep in the Appalachian Mountains was priceless.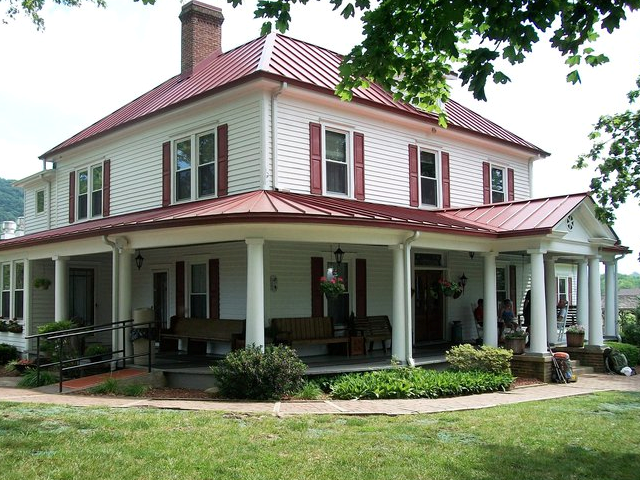 image of the homeplace taken from: https://www.visitroanokeva.com/listings/the-homeplace-restaurant/5638/