CLICK HERE FIRST!                                                                                                                          For a Prezi presentation on evolutionary history.
Researchers Stephen O'Brien and Warren Johnson have discovered eight different evolutionary lineages for the Felidae family. (1) [Added pictures mine]:
1 PANTHERA
These medium- to large-size cats (15 to 350 kilograms) are found throughout the world. They are the dominant predators in the ecosystems and on the continents that they inhabit, often specializing on large ungulate species. The lion, tiger, jaguar, leopard and snow leopard have an incompletely ossified hyoid, which allows them to roar. The two clouded leopard species do not roar.
2 BAY CAT
This poorly known group of small- to medium-size cats (two to 16 kilograms) is restricted to forested habitats in tropical Southeast Asia. Before the authors' genetic analyses, taxonomists did not consistently group these species together.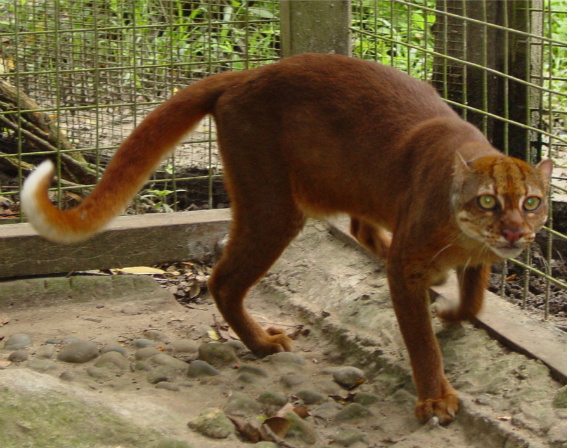 3 CARACAL
These medium-size cats (five to 25 kilograms), which are restricted to Africa, are distinctive and recognizable but were not typically grouped together before the authors' genetic work.
4 OCELOT
These small- to medium-size cats (1.5 to 16 kilograms) live in a broad range of habitats throughout Central and South America. They have a different number of chromosomes than other Felidae species do (36 instead of 38).
5 LYNX
These medium-size cats (six to 20 kilograms) all have short tails and pointed ears. They live in temperate climates of North America and Eurasia and tend to specialize on hare and rabbit. With the exception of the Iberian lynx, these species have been among the most widely exploited for their fur.
6 PUMA
These diverse cats, from the small jaguarundi (three to 10 kilograms) to the large African cheetah (21 to 65 kilograms) originated in North America but have spread widely across four continents and remain broadly distributed. Pumas can be locally common and are legally hunted in parts of their range.
7 ASIAN LEOPARD CAT
These small cats (two to 12 kilograms) occupy a wide range of habitats in Asia, from mangrove forest to Mongolian steppe. The Asian leopard cat is the most common small cat in Asia.
8 DOMESTIC CAT
These small cats (one to 10 kilograms), with the exception of the domestic cat, which is worldwide, have African and Eurasian distribution.
(1) Stephen J. O'Brien, Warren E. Johnson, "The Evolution Of Cats" Scientific American 297.1 (2007): 68-75. Psychology and Behavioral Sciences Collection. Web. 5 May 2013.
Pictures courtesy of Wikipedia and Wikipedia Commons.