Question: What is the opposite of war?
Answer: …?
Before you continue to read this post, and for once it'll be rather short (comparatively, but not by much), take a few moments to answer the above question. While I will be, quickly, linking what I am saying to Freire's work and thoughts, although I will be assuming relative familiarity with Freire's problem-posing model and not explaining it, my set-up is going to be non-traditional. In fact, I am going to be pulling from Philip Hallie's "From Cruelty to Goodness". Hallie is a scholar who investigated the cruelties of the Holocaust and worked to answer the question I posed to all of us earlier. Given the recent events here at Tech against our Jewish community, it is an answer that I think salient for the critical pedagogy we are investigating this week.
Peace
When folks are asked to name what the opposite of war is, many (I include myself in this number) will initially answer "peace". Likewise, if I had asked a question about the opposite of harm/pain, many would have initially said "relief from pain" or something of that sort.
Peace, and relief from pain, are not the opposite of war or pain; they are their absence. For Hallie, they are not sufficient for overcoming decades and, sometimes, centuries of social conditioning and structured oppression. That is a systems claim, but I see little reason for it to not apply to the classrooms level as well. As such, I would like to posit that we need to do more than remove negative elements in our classrooms. If we ever want to practice a critical pedagogy of the sort Freire posits, a pedagogy that necessitates the destruction of a power differential, we need to have something positive as opposed to neutral in our praxis.
Hospitality and Restoration
For some of the learners in our classrooms, and for some of us in class, there are live harms. There are historical and unmediated instantiations of cruelty and maimed dignity that are brought into the classroom as invisible knapsacks not of privilege, but of oppression, degradation, humiliation, and isolation. Under a neutral model, such as a peace model, these aren't addressed and in being ignored can continue to impact the experiences of those in the classroom. We can't, with Freire's model, afford to ignore these past and live harms. We must address them and combat their reification in the classroom.
As facilitators in our classrooms, a positive possibility for addressing these harms is framed as hospitality. For Hallie, hospitality is "…unsentimental efficacious love" that ends cruel power relationships, and in my view transforms relationships, while seeking to heal those who have been harmed.
To contextualize this a bit more, hospitality is a response to oppression/institutionalized cruelties and these cruelties are captures by four aspects. The first is that the cruelty is substantial and maims dignity. [1] Second, that it is pervasive or total insofar as those living under the oppression cannot find respite from those assaults on their dignity. [2] The third is that it involves a power differential. [3] Last, it operates just outside of awareness and takes a constant effort to address. [4]
This persistence, resilience even, in the face of a historical banking method is necessary for instantiating a radically different pedagogy that, in many ways, is not of our own creating (more on this shortly). Our students have been imbedded in a model, for the most part, that tells them over and over again that they are not capable of original thought, that they don't have anything to offer, and that they are not worthy of our attention or deference. This is a sort of cruelty in its own way, and hospitality is a way of combating it.
In combating it, the facilitator gives deference to those whom they, for lack of a better term, serve. They ask "what do you need from me" and "how can we work together to make sure your needs are met". I know this may seem odd, and even in liberatory thought deference and "terms" conflicts are readily contested, but I don't see how Freire's model can work any other way.
It is a risk, yes, and a risk that we have been systematically incentivized to not take. But what must we believe about those we work with to not be willing to cede power? What must we fear to not be willing to be vulnerable? And who benefits from our continued refusal to do these things?
Hospitality, as required by the model, does not set one person or group above the other and does not assume that one holds power over the other in the conventional sense of the term. Rather, it frames the actors as equals, as mutual laborers in a project of their creation, and stands opposed to the many paradigms of instruction that we have currently in the academy.
It helps create a possibility for the construction and production of knowledge that Freire was looking for. [5]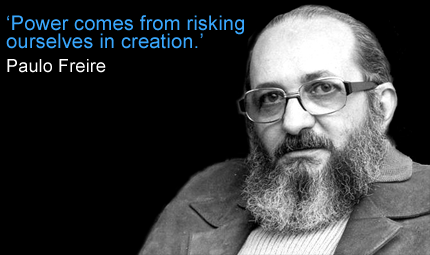 "Of" NOT "For"
For the critical pedagogy we are investigating, we are looking at a shift in model; we are looking at a student and learner centered model; we are looking at a pedagogy OF the oppressed.
The "of" is very important. This is not a pedagogy that is "for" the oppressed. It is not a pedagogy that is created, formed, laid out, and then applied "to" the oppressed. It is created by and on the terms of the oppressed and never otherwise. Perhaps this is why, in the introduction of his book, we find that a 16-year old boy and his "semiliterate" mother were able to understand the book and its message when the "academics" could not. The book was "of" them, not "for" the academics. [6]
In our classrooms, specifically in those spaces where we hold power granted by a system, this means a pedagogy that is ultimately only ever legitimated by the students and learners is stems from. It is not something we apply to them, though there are facilitation skills and elements of vulnerability imbedded in creating a classroom environment such that they can collaborate in the labor of making, and unmaking, the pedagogy by which they and we learn; a pedagogy that makes and unmakes them just as it makes and unmakes the facilitator in remarkable and, often, unimaginable ways. This is where hospitality comes into play since, without hospitality, we risk reifying historical power dynamics within the classroom or failing to account for the histories and lived experiences our students bring with them into the classroom.
Outside of that space, in the places where we no longer hold power, though for some of us those spaces are few and far between, there is an opportunity for our own pedagogy to emerge. A pedagogy which, in fact, can lead to the liberation of the oppressed and their oppressors alike. To tie this back to Hallie, hospitality restores humanity to someone else, or to a group of "other" people, but also restores the humanity of the practitioner.
For Freire, only the oppressed can liberate the oppressors. For Hallie, only the maimed can ultimately restore their maimer. For both the liberation of both is bound together.
For us in this classroom, and in our future classrooms should we answer Freire's call, we will make it and it will make us in a continuous process of labor and relation.
It is a pedagogy of us and it is ours just so long as we are for one another.
---
[1] "Cruelty involves the maiming of a person's dignity and the crushing of a person's self-respect" (p.23)
[2] p. 24
[3] pp. 24-25
[4] "It is the viewpoint of the victim that is authoritative" (p.25) This requires that someone who has been taught how to not listen to the oppressed will have to actively work to listen to their stories.
[5] see p. 10 (by pdf page demarcation) in Pedagogy of Freedom.
[6] see pp.22-23 in Pedagogy of the Oppressed.