We are assessed everyday of our lives, whether we realize it or not, on pretty much everything we do. Obviously, we are assessed in school on how well we can remember what is taught to us and are given a grade that reflects the teacher's opinion of our performances. We are assessed when playing sports based on how well we run, throw, shoot a basket, etc and are assessed by either making the team or not and then by either starting or bench-warming. Outside of these more obvious examples of being assessed, we are assessed based on what we wear, how we look, what car we drive, what food we buy, etc. And, sadly, I admit that I am guilty of assessing people (typically subconsciously) on all of these accounts. I think it is probably pretty fair to say that all of us do this, unintentionally. For example, when I go grocery shopping, if I see someone with a cart full of soda, cookies, chips, etc with no fresh fruit and veggies, I typically think that this person is really unhealthy and/or poorly informed on nutritional guidelines (even though they could just being buying a bunch of food for their Super Bowl party, and that particular shopping cart is not at all indicative of their overall eating habits). This is a perfect example of why grading students on everything is not ideal. That person at the store would have received an "F" in Health Ed based on that day's shopping cart … but maybe overall, he/she/they would get an "A+. Grades are snapshots … not the big picture.
Assessment is a part of life, whether we like it or not. But, there are so many approaches we can take towards assessing others. In regards to our education system, grades are king, despite the evidence showing that grading students reduces their interest in what is being taught and encourages students to take the path of least resistance in order to get good grades (Alfie Kohn, "The Case Against Grades"). Kohn discusses how some schools have found success in replacing letter/number grades with "narrative assessments" or to have students assign themselves grades and then have the teacher and student discuss the reasons behind this assessment. The teacher, of course, has the final say – but I like that this enables kids to think critically about how they perform and gives them a voice. However, this seems like it would be a huge amount of work for the teachers – and therefore, likely not possible in large college classes. That said, this form of assessment is commonly used in "the real world" through our annual reviews where we self-assess, get assessed, and discuss with our superiors. Since a major point of going to school is preparation for "the real world," shouldn't we assess students in a way that directly translates to how they will be assessed later in life? Giving grades on everything would be the equivalent to my advisor micromanaging me every day and critiquing everything I do constantly (rather than look at the bigger picture of my strengths, weaknesses, etc). Our assessment should be part of our learning adventure – not an evaluation of how we "perform" every step along the way. If I were to run a marathon, I might trip at mile 15 but still get a PR.
In my opinion, the biggest problem with grades is that it can discourage imagination, creativity, and risk-taking. Students are encouraged to follow the path of least resistance, which minimizes the creation of novel ideas. Liu & Noppe-Brandon (in Imagination First) discuss how Einstein is the picture of intelligence not because he was necessarily significantly smarter than the average person (though he very well may have been), but because he was not afraid to imagine, create, and fail. Failure is such an important learning tool, but in school we are taught that failing is bad, and it means we aren't learning and succeeding. Most people will admit that they learn more from their failures than their successes, so why do we make "failure" such a bad thing? At the end of the day, qualitative feedback is much more beneficial than a letter or numeric grade. When grades are assigned, even if teachers provide qualitative feedback, most students ignore the feedback if they are happy with the letter/number grade (or if they just don't care). Students would learn more if they were actually asked to read and absorb the feedback and make the corrections.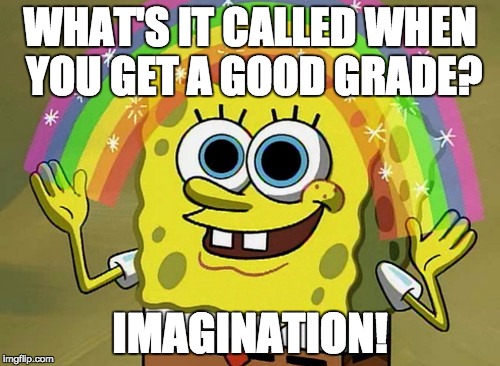 At the end of the day, assessments will never go away. And I don't think that they should. Being assessed encourages us to grow. It is HOW we are assessed that matters.