"If you don't always give 100%, don't expect to be any better than average."
"Give 110%."
"Always give 100%, except when giving blood."
All of these commonly said phrases have the same theme: we must always give 100% of ourselves to everything that we do. We are taught it in school. We are taught it at home. We are taught in when playing sports. But … why are we teaching something that sets everyone up for failure 100% of the time? And why do many graduate students think that they must be "superhuman" to please everyone by giving 100% to everything?
In high school, I gave 100% on every assignment, every test, every extra credit. And my lowest final grade my senior year of high school was a 96. What I didn't do was give myself time to relax, to be a teenager. If I had a 99% in the class, I still did the extra credit because I was below 100%. I didn't know how to spend less time on certain assignments that didn't need to be perfect and thus stressed myself out constantly. Instead of saying "Erin, you have a 96% in this class. You don't need to get 100% on the project due next week," I would say "Erin, you have to give 100% on this project.  It is an insult to yourself and to your teachers to not give 100%." I was the epitome of an over-achiever.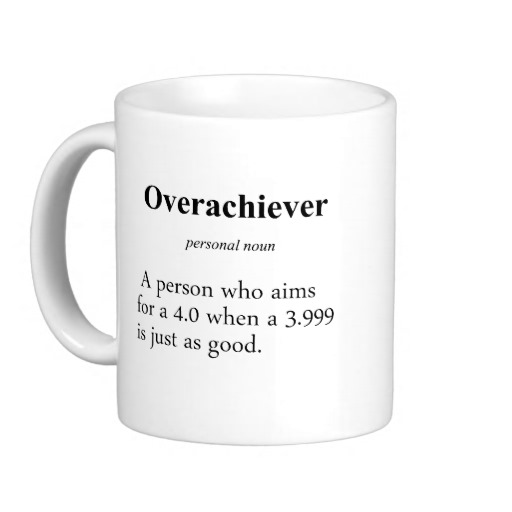 While I do believe that we should do "our best," I think that there is an important distinction between giving "100%" and giving "your best." Giving 100% means, give everything that you are physically, mentally, emotionally etc capable of giving. Doing "your best" means, you do the best that you are physically, mentally, emotionally etc under the given circumstances. I did not understand this distinction until I had some rough experiences during my Masters degree, where I could not give 100% in everything being asked of me. It was not possible. And for a while, it made me feel very poorly of myself. I thought I was failing. I thought I wasn't good enough to be in graduate school. I felt that the things I used to be really good at, I was now not good at.
Fortunately, I crawled out of that space and came to understand the distinction between giving 100% and doing my best. Now, I for the most part, do the best I can given everything going on in my life. I have things besides schools going on, and it is not possible for me to give 100% to all of them all of the time – I cannot give 100% to my partner, give 100% to my classes, give 100% to my research, give 100% to my well-being etc. But, I can do my best at each of these things. That means that sometimes I give 95% to my partner, 67% to my classes, 80% to my research etc. Different aspects of my life get different percentages of my time and energy at different times. Or does the percentage have to add up to 100%? I don't know.
Fortunately, other quotes are becoming more frequent. "Whatever your 100% is, give it." This, for example, I think embodies my distinction between giving 100% and doing your best. But, I still would prefer to nix the 100% part.
This all being said, this amount of text here is the best I can do for this entry right now. It is not my 100%. And that's okay. J