The Transformation of the Fighting Ninth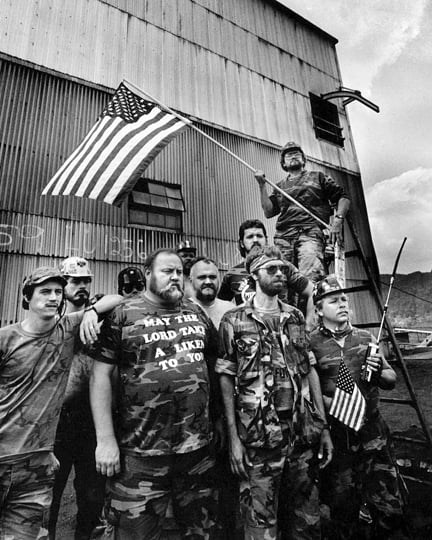 The transformation of Virginia's Ninth Congressional District has been both ideological and (in terms of election maps) physical.
In 1988, several VA-9 counties voted for Democratic candidate Dukakis, while the state as a whole went to Bush. In 1980, incumbent Jimmy Carter lost to Ronald Reagan state-wide and nationally, but again, the VA-9 went with the democratic candidate. The ninth district had been a blue stronghold for the Democratic Party in state and national elections, with the notable exception of Rick Boucher: V.O. Key in 1949 noted that SWVA voted against the Byrd Organization in 1945. By 2000, this pattern had ended. The Republican Party by and large can count on the Fighting Ninth's votes.
The role of coal is undeniable in this transformation. The industry has been in decline for decades – in part because of increased EPA regulations, but also because of increased mechanization and the fact that coal is inherently a limited resource. Additionally, after the 1985 battle against Massey Energy and the 1989-1990 Pittston Coal Strike, the UMWA presence in southwest Virginia and Appalachia as a whole has dwindled. Though the Pittston strike was mostly successful, the UMWA suffered huge financial losses and has taken a much smaller role since. Many believe the UMWA had abandoned miners by not continuing to fight for their interests, bargaining with coal companies without input of miners themselves. Linked to both the UMWA and the EPA, the Democratic Party also abandoned SWVA in the eyes of many.
The Ninth District has also noticeably shifted in its physical boundaries. While I am still searching for resources on redistricting in this part of the state, the idea of gerrymandering continues to arise. Whether or not it is a piece of the story is to be seen.
Forming these interrelated but not necessarily chronological into a narrative is proving to be difficult. For one, it's difficult to avoid putting my own personal beliefs and experiences into the story, and finding sources to confirm them (or deny, for that matter) has been a roadblock. Sources that do confirm what I've heard and believed are very obviously left leaning, but I have found little elsewhere that even cover the transformation of the district. We'll see how this goes.
Textual Analysis
I have little to no experience with textual analysis, to be quite honest. In doing research, I tend to notice patterns of co-location and edit my searches around those findings. Last semester, one of my GA assignments was to work with Tom Ewing's research on the Russian Flu epidemic of 1889 to 1890. Part of my work included noticing how different types of articles could be distinguished from each other: for example, advertisements tended include both "Russian flu" and "cough" or "fever." My role did not include qualitative analysis, though, so I am not sure of what conclusions the researchers on the project will draw from these findings.
As for what I would like to see in terms of topic modeling, I am drawing a blank. My personal research interests have much less to do with the goals of topic modeling. My primary sources are films, interviews, and perhaps reviews and critical reception of films. Nevertheless, I think the approach and results are fascinating. Finding patterns in massive amounts of textual data is a great way to put written history into a visual format, which is immensely valuable in digital history.
Podcast Update
I've been listening to My Favorite Murder, a comedy-slash-true crime podcast by two comedians, Karen Kilgariff and Georgia Hardstark. The hosts provide comic relief without taking away from the seriousness of the topic: a much needed approach for someone like me, who started watching Unsolved Mysteries and Law & Order: Special Victims Unit at far too young. This podcast has very little to do with the podcast for this class, and I doubt my podcast will have any comic relief (though David "Mudcat" Saunders has come up multiple times and his language describing rural SWVA is…colorful…), but I'm definitely hooked.