In our Advanced Design Research course, we read about the 14 concepts of Biophilic design in a paper by Terrapin Bright Green. Strategic environmental consultant for Terrapin Bright Green, Catie Ryan, served in an item writing group for the WELL Building Standard and noted many connections between the standard's imperatives and Biophilic design.
Although Biophilia is specifically called out in the "Mind" concept of WELL, there is much overlap between the human-nature connection and other items listed for wellness:
Image courtesy of Terrapin Bright Green
The WELL Building Standard encourages Biophilic design in two approaches:
Qualitative: "the thoughtful incorporation of environmental elements, lighting and space planning at each design stage of the project"
Quantitative: number of connections to the outdoors (you can never have too many…right?)
Case Study: A Positive Bend in the River
Federal Center South, Building 1202 , Seattle Washington
Firm: ZGF Architects
The massive 209000 square foot campus for the U.S. Army Corps of Engineers (USACE) was designed to redevelop a brownfield site and previous warehouse in Seattle. The shape of the building was inspired by the "oxbow" formations in the adjacent  Duwamish Waterway (thoughtful incorporation of environmental elements!). The U-shape provides energy-performance benefits and creates a collaborative environment.
Inhabitants not only get access to plenty of natural light and views to the outdoors, but also have a visual connection to nature in the "commons" interior landscape.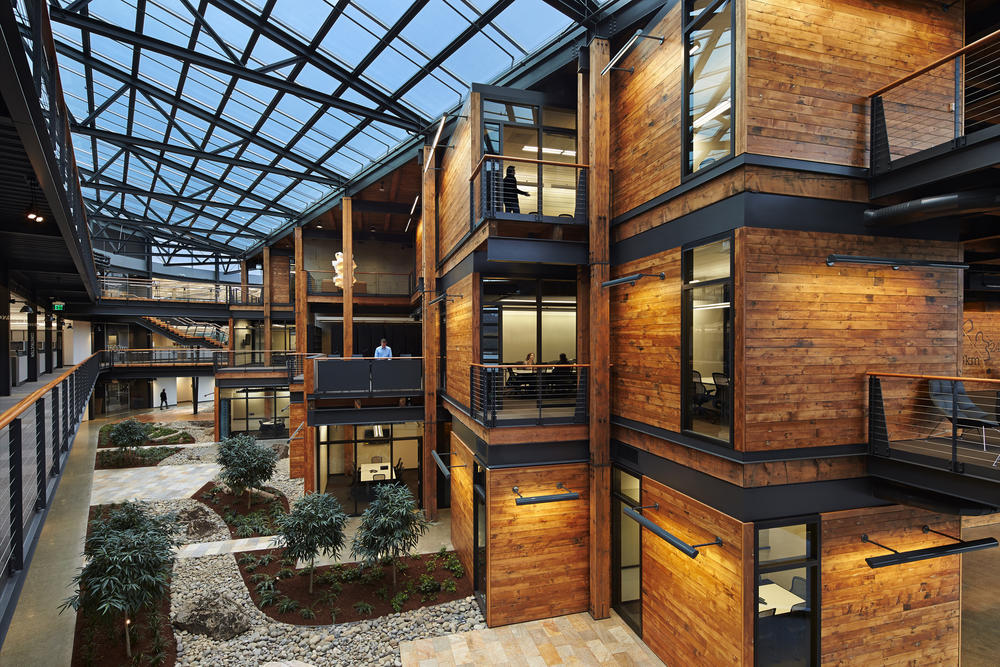 Images Courtesy of ArchDailey