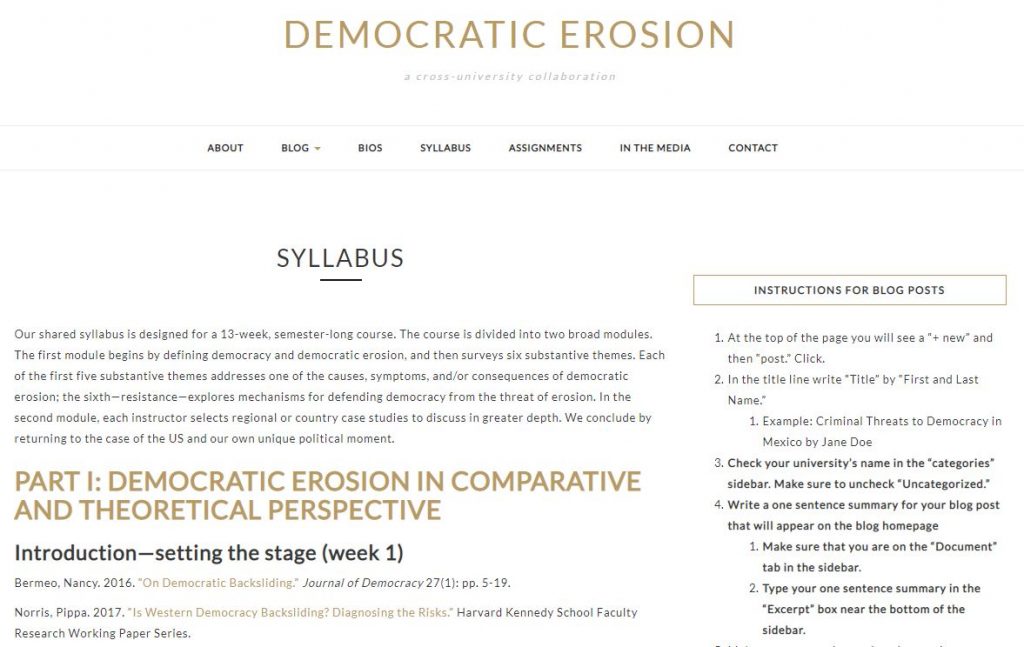 Toward the end of Open Learning '18, I spotted an article in the Washington Post about a "nationwide college course" about the way democracies decay or erode over time. The Brown University professor who started the course, Rob Blair, began his efforts in the fall of 2017, with three schools in the network. As of this writing, in the spring of 2019, the main course website, democratic-erosion.com, lists thirty-seven schools in the network, three of them outside the United States, as well as one that's not an institution of higher education, the DC Jail. There's also an "uncategorized" category, bringing the total categories of participation to thirty-eight. While not all of these participants have contributed to the cross-university blog yet, their presence on the site, and the shared learning resources in the course itself, emphasize the fact that networked learning is at the heart of this ongoing project.
Although the term "open pedagogy" doesn't appear on the democratic-erosion.com site, I think Dr. Blair's course and the network built on that foundation certainly deserve to be considered in that light–which is why I immediately contacted him to arrange for an interview.
The interview took place in April, 2018, too late for Open Learning '18. Nevertheless, while the course network has grown considerably since that time, the course design and the course site are still what they were when I spoke with Rob, so the interview remains relevant (at least in my view). So here, for Open Learning '19, is our conversation about what I remain convinced is a remarkable example of the value and essential qualities of open pedagogy.